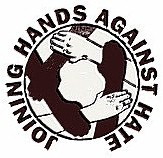 The Coalition Against Hate Crimes (CAHC) was started by the American Jewish Committee in Portland, Oregon. It held its first meeting in early October 1997. Its members are representatives from a wide variety of comm and government organizations. The Coalition and its members support non-violent solutions to the problem of hate and hate crimes in Oregon.

You can contact the CAHC via. Dr. Randy Blazak at Portland State University (cfrb@pdx.edu)

---




REPORT A HATE CRIME OR HATE INCIDENT (click here)





OREGON HATE CRIME REPORT FORM





Oregon's Hate Crime Laws (click here)




Report a Civil Rights Violation (click here)
---
The CAHC Steering Committee sets the agenda for CAHC monthly meetings and facilitates discussions and connections.

The 2008-2010 Steering Committee
Randy Blazak (PSU Hate Crime Research Network) - Chair (cfrb@pdx.edu)
Emily Gottfired (Oregon Area Jewish Committee) - Secretary/Treasurer (emily.gottfried@oajconline.org)
Marilyn Johnston (Salem Human Rights Office) - (mejohnston@cityofsalem.net)
Norm Costa (Police Chief's Forum/Sexual Minority Roundtable) - (norbob2003@yahoo.com)


---
CAHC Meetings are held the 4th Thursday of each Month

10 am
Office of Human Relations
5315 N. Vancouver Ave.
Portland, OR 97217
---
2009 FBI Hate Crime Data for Oregon
---
REPORT A HATE CRIME



A hate crime occurs when one person intentionally subjects another to offensive physical contact, threatens or inflicts physical injury, or threatens or causes damage to the property of another person because of their race, color, religion, sexual orientation, gender identity or national origin. A hate crime may also target a person's family member.

To report an emergency, please dial 911 immediately. This form is intended to inform the Oregon Department of Justice about potential hate crimes. This is not a substitute for filing a police report with a federal, state or local law enforcement agency. For more information, visit the website of the Federal Bureau of Investigation, http://www.fbi.gov/hq/cid/civilrights/hate.htm.



OREGON HATE CRIME REPORT FORM





---
REPORT CIVIL RIGHTS VIOLATION



If you have think your civil rights have been violated, please fill out this form: Civil Rights Complaint Form and report it to the U.S. Attorney's Oregon Office.



---
THE CAHC IS NOW ON FACEBOOK!
Follow the discussion about hate crimes, diversity, and community action on the CAHC Facebook group site.

Just click: Oregon's CAHC Facebook page

You must be a member of Facebook to join the group.


---
---



Corvalis Mosque Target of Arson



November 28, 2010 - Corvalis, Ore. - The Corvallis Fire Department tells us that a fire was set shortly after midnight at the mosque where Portland's alleged Christmas-tree bomber attended in Corvallis. After completing a cause and origin investigation, fire prevention officer Carla Pusateri tells us "it appears the fire was intentionally set."

Complete story at: KATU.com



---
Fall 2010 Hate Crime Forums

Ashland, Oregon
Friday,October 5
3 pm to 5 pm
Ashland Library - Large Meeting Room
"Backyard Terrorism: Confronting Hate Crimes in our Community"
with Randy Blazak, CAHC

Washington County
Thursday, October 21
7 pm to 8:30 pm
Hillsboro Civic Center
150 E. Main St.
Hillsboro, Oregon
with representatives from the U.S. Attorney's Office, F.B.I., Washington County District Attorney's Office, Hillsboro Police, Washington County Sheriff's Office and the Oregon Coalition Against Hate Crimes.



---
Oregon Attorney General Hate Crimes Press Conference


---
Portland mayor and police chief to enhance patrols, victim services in wake of recent bias crimes



June 15, 2010 - Portland, Ore. - -Mayor Sam Adams and Police Chief Mike Reese today announced enhanced patrols, further training for Central Precinct officers and the creation of a citizen foot patrol in the downtown entertainment district in response to several recent bias crimes impacting members of the lesbian, gay, bisexual, transgender and queer community.

Full story at: The Oregonian.



---
Volksfront expands into Vancouver



May 5, 2010 - Vancouver, Wa. - Local members of Volksfront, a Portland based white-supremacy and neo-Nazi organization, have found an ambitious leader in Jeffery (an alias). Jeffery is a 32-year-old, recently unemployed construction worker and native Vancouver resident. He describes himself as being a serious contender in the current fight to become Volksfront's next undisputed führer.

Full story at: Vancouver Voice



---
Hate Crime Reports from the Road


---
Eugene police investigate racist graffiti at elementary school



November 30, 2009 - Eugene, Ore. - Police are looking for the vandal or vandals responsible for racist graffiti on the outside walls of a Eugene elementary school. Police say the bias crime occurred at Spring Creek Elementary School, 560 Irvington Drive, between Friday afternoon and Sunday morning.

According to Eugene Police, racially offensive and biased graffiti was applied to the exterior walls of the school. Police say a breeze-way area and nearby ball wall were also vandalized. Investigators are looking for leads on this incident or similar incidents in the nearby area. If you have any information, you are asked to contact Eugene Police at 682-8888.

Full story at: KMTR.com.





---
Portland man arrested for mailing noose to NAACP leader



October 8, 2009 - Portland, Ore. - A Portland man was arrested Wednesday and accused of civil rights and mail violations for sending a noose in February 2008 to a regional director of the NAACP in Cleveland.
Daniel Lee Jones, 33, is alleged to have used the Postal Service to send a noose to the home of Jason Upthegrove. The FBI said Jones sent hate literature to residents of Lima, Ohio, where an African American woman was recently shot by a police officer. During that time, Upthegrove was speaking out in the community against the mailings and for equal police service for African Americans.
"A noose is an unmistakable symbol of hatred and violence in our nation, conjuring up images of a despicable period in our history. Mailing a noose to an individual who advocates for racial equality sends a clear threat of violence," said Thomas E. Perez, Assistant Attorney General for the Civil Rights Division.
If guilty of mailing threatening communications, Jones faces a maximum of five years in prison and $250,000 in fines. If guilty of interfering with federally protected activities, he faces up to a year in prison and $100,000 in fines.

Full story at: KGW.com

and The Oregonian



---
Neo-Nazis hold a Racist BBQ in Vancouver



September 12-13, 2009 - Vancouver, WA - Two well known Oregon Neo-Nazis held a "racialist BBQ and camp out" near Vancover, Washington. Dylan Marchand and Daniel Jones hosted the small group that included a speaker from the American Nazi Party. The two promoted the Northwest Imperative, which dreams of a white only homeland in the Norwestern corner of the United States.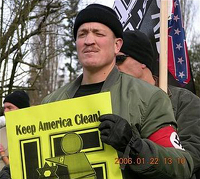 Dylan Marchand



Source: Portland.indymedia.org



---
Hate crime indictments for suspect in NW Portland shooting



September 9, 2009 - Portland, Ore. -- A 43-year-old man has been arrested and charged with intimidation, criminal mischief and reckless endangerment in an alleged hate crime, according to the Multnomah County Sheriff's Office.

Vadim Ignatov was indicted by a grand jury on Wednesday for allegedly endangering his victim through intimidation and illegal use of a firearm, Lt. Mary Lindstrand said.

Deputies also confiscated more than $200,000 in U.S. and foreign currencies, gold and platinum discovered in Ignatov's vehicle, Lindstrand said.

The investigation began Aug. 29 after gunshots were fired into a family residence on NW 81st St. Detectives later learned the victim's home had been shot at on other occasions when children and adults were present, sheriff's deputies said.

"We were really shocked. We were shocked because we don't know him. I don't even see his face. It's like why is he doing this?" Suzanne Hachem said.

Hachem and her son Mohammed stand in their living room, still trying to believe the damage is real. What started with an angry neighbor spraying a garden hose at them, quickly escalated to bullets flying into their home.

Full story at: KGW.com

---
Community organizes "Speak Out" after reported hate crime in Beaumont neighborhood



August 6, 2009 - Portland, Ore. - Neighbors and city officials are organizing a "Community Speak Out" Friday night following a reported hate crime Sunday morning in the Beaumont-Wilshire neighborhood. Bao Vuong, a 22-year-old Portland State University student, says he was headed home from a friend's house, stopped at a traffic light at Northeast Fremont Street and 41st Avenue, about 6:30 a.m. when four young men waiting at a bus stop started shouting racial and sexual slurs at him.


The verbal abuse turned to an assault, Vuong said, when the men threw bagels and cream cheese at his car, and one punched the passenger-side door of his vehicle. Vuong said he tried to ignore the four men, when they started calling him a "faggot." But then they continued with ethnic epithets. "For me'' Vuong said, "it felt like the longest light ever. I felt like a sitting duck."

Full story at: The Oregonian






---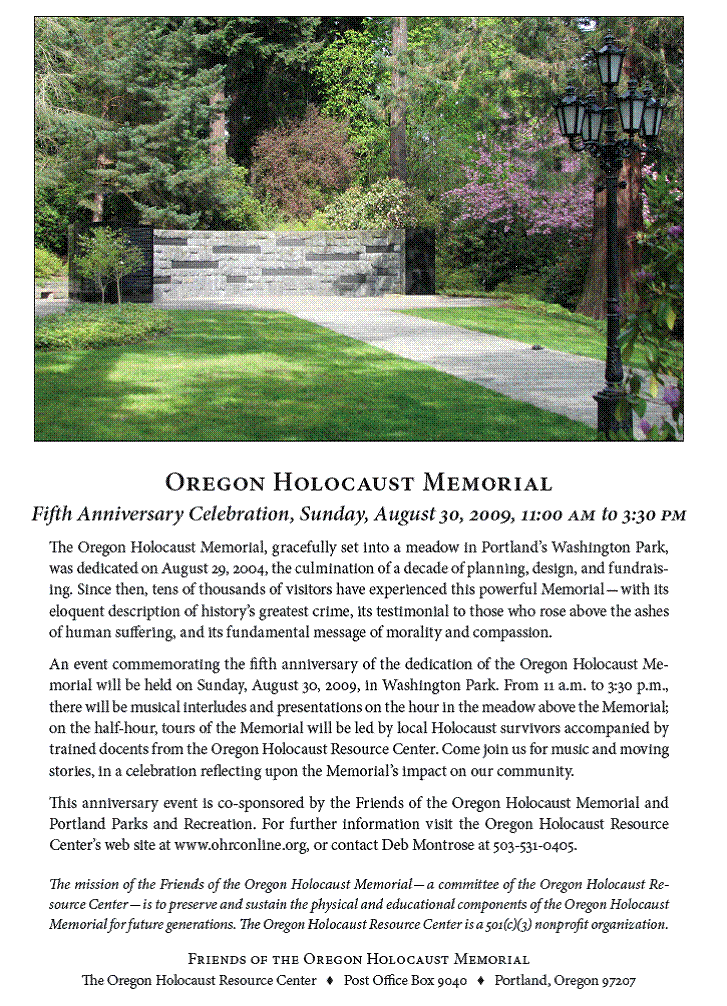 ---
Police question two men about threats to Jewish community



July 2, 2009 - Law enforcement authorities reportedly have identified a 21-year-old Vancouver man as the individual who made two threatening telephone calls to Congregation Beth Israel on the night of June 16.

Jewish Federation of Greater Portland Community Relations Director Robert Horenstein said the suspect, whose name was not made public, "admitted making the calls and the FBI is now working with the U.S. Attorney's office to determine if a crime has been committed."

The alleged caller, whom authorities described to Horenstein as having "low intelligence and no means to carry out any threats," reportedly said over the phone, "The Nazis are coming to get you; there will be another Holocaust" and "You killed my Lord. You will pay."

Full story at:JewishReview.org.



---
Anti-Jewish Assault in Pendleton



June 28, 2009 - Pendleton, Ore. - Pendleton's downtown weiner dog race turned ugly Friday evening when a young man allegedly assaulted one of the judges. According to a Pendleton police report, witnesses saw a man in his 20s head-butt race judge Daniel Mitzimberg shortly after the end of the races. The report said the man had a shaved head and was wearing a black T-shirt and black pants.

A friend of Mitzimberg's, James Harsin, said he did not see the incident, but talked with Mitzimberg shortly after it happened. "He (the young man) walked up and said something like, 'stinkin' Jew' - something racial - and he just slammed his head into him (Mitzimberg)," Harsin said. Harsin said the assault happened very fast, and the young man quickly disappeared. Mitzimberg did not call the police right away, but after a knot rose on his forehead and the pain did not go away, he decided to report the assault.

"It was definitely a racial deal," Harsin said. Pendleton Police Sgt. Bill Caldera said the police department is looking for the man, who will most likely be charged with harassment or disorderly conduct. The police report mentioned the young man had a mole on the back of his head.

Full story at: East Oregonian.



---
Man accused in attack on Gay Pride teenager



June 24, 2009 - Portland, Ore. - Portland police have arrested a 23-year-old man, accused of kicking a teenager in the head and causing her a concussion after having asked her about her sexual orientation in downtown Portland last month.

Portland police Detective Kevin Warren, who investigates bias crimes, charged Eduardo Herrerafarias with second-degree intimidation and fourth-degree assault.

The assault, described in an article that ran in The Oregonian on June 13, described an attack on Ms. Junior Gay Pride Caitlin Bernardi. It occurred about 3:30 a.m. on May 17 outside the Benson Hotel on Southwest Broadway, near Oak Street.

Full story at: The Oregonian.



---
Racist graffiti shows up on I-5 Ore. billboard



June 19, 2009 -NEAR SUTHERLIN, Ore. - A religiously-motivated billboard along Interstate 5 is grabbing a lot of attention. The sign posted along I-5 just south of Sutherlin shows four pictures, each one in transition from a man to a monkey. The advertiser claims the intent of the billboard is to raise awareness about possible misrepresentations of the theory of evolution, naturalism, and Darwinism. However, someone climbed up onto the billboard platform and spray-painted Obama's name right under the face of the monkey. The Douglas County Sheriff's Office is now looking into this very visible case of vandalism. It's unclear when or if the sign will come down.

Full story at: KDRV.com



---
Teens get plea deal for racist vandalism spree in Troutdale



June 17, 2009 - Troutdale, Ore. - Two 18-year-old men who went on a rampage in Troutdale -- spray-painting swastikas, KKKs and racial slurs on two churches, tombstones in the Jewish section of a cemetery and parked cars -- were sentenced to jail terms of 30 and 90 days Tuesday.

Both Timothy Charles Feininger and Brendan Scott Mackey pleaded guilty in Multnomah County Circuit Court to first-degree intimidation, criminal mischief and burglary. Mackey also pleaded guilty to recklessly endangering another person because he threw rocks at passing cars.

Full story at: The Oregonian.



---
Pair gets prison for burning 'KKK' in lawn



June 15, 2009 - Eugene, Ore. - Two men who burned a cross and the letters "KKK" on the lawn of a black man in Medford, Ore., were sentenced to federal prison Tuesday. Judge Ann Aiken sentenced Gary Moss, 37, to serve 41 months in federal prison for conspiring to deprive individuals of their civil rights. Co-conspirator Devan Klausegger, 30, was sentenced to serve 51 months for the same charge.

Both defendants were ordered to serve three years of supervised release and ordered to pay restitution to the victims in the amount of $3,107.00. Both defendants admitted that on May 26, 2008, Moss, who is white, poured a flammable liquid in the shape of a cross and the letters "KKK" on the front lawn of a residence leased by a black man and his family.

Full story at: KVAL.com

---
US Attorney's Office Makes Civil Rights Enforcement Easier



May 28, 2009 - Adrian Brown of the U.S. Attorney's office announced at the May CAHC meeting that it will now be easier to civil rights violations to federal authorities. The department's webistie has been revised to include descriptions of federal laws that can be used to prosecute civl rights vioations. The website is:



Civil Rights Enforcement



The website includes a link to the Civil Rights Unit Complaint Form. Citizens and residents are encouraged to submit this form if they believe their civil rights have been violated.



---
Hate Crime Charges Possible in Oregon Cross Burning Case



May 16, 2009 - ALSEA, Ore. — A prosecutor says he's not ruling out the possibility of hate crime charges if authorities can collar whoever burned a cross in the yard of a Benton County woman.

District Attorney John Haroldson says his office takes hate crimes "very, very seriously," and he would review the case to determine if such charges are warranted.

Last weekend, Summer MacLean of Alsea found a 5-foot cross charred in her lawn. She is the white mother of a 13-year-old adopted African-American child.

The cross was described as constructed of two-by-fours and covered with a sheet. Investigating officers say they initially classified the incident as reckless burning because investigators hadn't turned up evidence of threats or prejudice.

Full story at:Gazettetimes.com



---
10 Arrested in Grants Pass Hate Motivated Fight



May 4, 2009 - Grants Pass, Or. - Grants Pass police arrested 10 people, including six juveniles as young as 12, in a downtown brawl they say may have had white supremacist and neo-Nazi overtones. Lt. Bill Landis said the Saturday night fight involved up to 20 people, and broke out when someone yelled at three people riding by on bicycles. The fight eventually spread over a couple blocks, though no property damage was reported.

Landis said some people were yelling racial slurs and giving the Nazi salute, which allowed for hate crime charges to be brought against some of those arrested. He added that all seven police officers on duty, plus a few more, were needed to break things up. The Daily Courier newspaper reported police charged four young adults with riot and disorderly conduct.

Full story at: StatesmanJournal.com



---
Oregon Attorney General speaks to CAHC about civil rights



April 23, 2009 - Portland, Or. - Oregon Attorney General John Kroger spoke to the April meeting of the Coalition Against Hate Crimes. He addressed the need to reestablish a civil rights division at the state AG's office. People who would like more information or are interested in supporting the prosecution of civil rights violations should visit the Attorney General's website (click here). The meeting was attended by numerous community leaders in the new home of the CAHC, Portland's Office of Human Relations.



---
Neo-Nazis now active in the Rogue Vally




April 22 - Medford, Or. - A Rogue Valley man recently released from prison after being convicted in a string of racially motivated assaults in 2003 now leads a statewide neo-Nazi group based in Phoenix.
Andrew Lee Patterson identifies himself as the state leader of the National Socialist Movement, Oregon Unit, and said he has been a "storm trooper, first class" with the movement for about six months. Other unit leaders from around the state selected him as leader based on his active involvement, he said.
The 29-year-old with a shaved head said he and his staff in Phoenix coordinate activity around the state, while a local unit focuses on recruiting and Southern Oregon issues — especially illegal immigration and wars in Iraq and Afghanistan. Patterson would not disclose membership numbers, either locally or statewide.
In recent weeks they have distributed fliers across the Rogue Valley and Klamath Falls calling for white pride and unity, denying the Holocaust happened and demanding that illegal immigrants return to Mexico so the white race doesn't become extinct.
Police across Southern Oregon have been watching the group for several months and have seen an uptick in activity in the past two to three weeks, Medford police Lt. Tim Doney said.

Full story at: The Mail Tribune



---
Two Hate Crime Attacks Reported ot Goose Hollow Max Station



April 2, 2009 - Portland, Oregon. The local media has reported thwo seperate bias-motivated attacks on the Goose Hollow MAX platform on March 26th. We will update the information as the incidents become clearer.

KOIN-TV: Another attack on a downtown MAX platform has authorities wondering if the attack was a hate crime

KGW-TV: Trio says alleged beating at MAX stop was hate crime



---
Washington men fall victim to Spring Break hate crime in Oregon



March 23, 2009 - Seaside, Or. - A spring break trip to the Oregon coast was short cut by a vicious gay bashing for two nursing students from Western Washington. The two men, Sam, 22, and Kevin, 23, said they left a campfire to walk along the beach during what was supposed to be a stress-free getaway. But the walk itself was anything but stress free -- the two were beaten unconscious late Saturday night. When Sam and Kevin finally came to, the two nursing students knew just how serious their injuries were. "The whole event -- I really don't remember a lot, because I sustained a lot of head trauma," said Sam. "I've never had a face trauma like this or anything like that. It's pretty bad," Kevin said. Thinking back to the attack, the two men said they believe it was their sexual orientation that made them a target. "All of the sudden, someone asked if were gay, called us 'fags,' then started punching us," said Sam. The victims said three or four young men dressed in black attacked them, letting loose punch after punch. The attack left the two men severely injured and bruised. Kevin's right eye is so badly damaged he plans to see a plastic surgeon on Wednesday.

Detectives want to speak to the individuals who were present at the campfire prior to the attack. Anyone with information on these individuals' identities is urged to call the Seaside Police Department at (503) 738-6311.

Full story at: KOMONews.com

---
Racist graffiti found on Troutdale church walls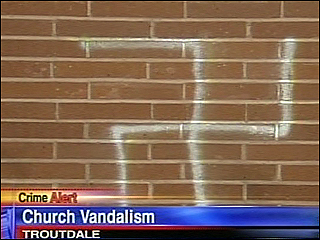 Feb. 17, 2009 - Troutdale, Or. - A Troutdale church burglarized several times in recent weeks has now been vandalized. Troutdale police Sgt. Steve Bevens said Monday night that officers discovered graffiti on the walls at Cherry Park Presbyterian Church, including swastikas, gang tags, the letters KKK and expletives targeted at Jews.

Officers were also called to the Douglass Pioneer Cemetery, south of the church, where graffiti was spray-painted on several buildings and a monument stone that marks the entrance to the Jewish cemetery within Douglass Pioneer. No arrests have been made, but Bevens says a witness reported seeing a teenager writing on a cemetery building earlier Monday.

Crews arrived Tuesday morning to clean up the spray paint.

More information at: KATU.com

UPDATE: Police: Teens admit to graffiti

Feb. 18, 2009 - Troutdale, Or. - Detectives have arrested two suspects in a rash of Troutdale hate crimes involving a pair of churches, a cemetery and more than 30 other open graffiti- and vandalism-related cases. The two Troutdale residents admitted to applying graffiti in at least 50 locations in a month, according to police officials.
With assistance from the Federal Bureau of Investigation, Troutdale Police detectives arrested Troutdale resident Brendan Mackey, 18, at 2 p.m. Wednesday, Feb. 18, as he left a tutoring session at a Stark Street restaurant, said Troutdale Police Sgt. Steve Bevens. An expelled Reynolds High School student, Mackey receives tutoring through Multnomah County-funded social services, Bevens explained.
The next day, at 9 a.m. Thursday, Feb. 19, officers arrested Timothy Charles Feininger, 18, also of Troutdale, on a tip that he would be meeting with a Reynolds High School student that morning. Officers spotted Feininger, also a former Reynolds student, near the school. After a brief chase on foot, Feininger was apprehended near the Imagination Station playground.

Full story at: The Gresham Outlook



---
Columbia County Latinos lead Procession for Respect and Dignity



On Wednesday, February 18th, members of the Columbia County Latino community and their allies will join together for a community walk, entitled Procession for Respect and Dignity.

The walk is organized by the new group Latinos Unidos para un Futuro Mejor (LUFM, or Latinos United for a Better Future), and is a public demonstration of the faces of Columbia County's Latino Community that has been under attack for the last eighteen months by ballot measures 5-190 and 5-191. The Procession for Respect and Dignity will bring our neighbors and ourselves out of the shadows and show honest, responsible community members that work hard to support families and contribute to the local economy.

At a recent organizing meeting, community members brainstormed reasons that they felt the procession would be an important gesture. "We want to show the community that we are the same, we are human beings. We are respectful and contribute towards our community, and we deserve to be treated with dignity," said Yesenia Sanchez, LUFM president.

"It is important to be organized and united in these difficult economic times in order to support the entire community," added LUFM vice-president Martha Olmstead.

Latinos Unidos para un Futuro Mejor was formed in response to the passage of county ballot measure 5-190, yet to be implemented, which if enacted would fine local employers $10,000 for hiring undocumented workers. Since November, Columbia County has attracted wide attention for dramatic job loss as businesses close shop or move to other parts of the state. Lionila Jimenez, LUFM secretary commented, "I have the legal right to work in this country, but the measure has still affected me. My hours have been cut from five days a week to two or three. This measure is affecting the entire community."

Gary Liao, a local business owner and plaintiff in the court challenge to the measure said, "Measure 5-190, in addition to containing errors, omissions, and mixing jurisdictions, would create a climate of suspicion adversely affecting innocent employers and innocent people."

With measure 5-190 and its high-profile court challenge, the previously invisible Latino community has been thrust into the spotlight. In the Procession for Respect and Dignity, the community will speak with a united voice for the first time, and show that we are your neighbors: honest, working people who deserve respect and dignity.

WHEN: Wednesday, February 18, 2009. 4pm – 6pm
WHERE: In St. Helens, Oregon. Starting at the St. Frederic Catholic Church at 175 S 13th, and ending at the County Courthouse.
WHO: New community organization Latinos Unidos para un Futuro Mejor (LUFM), in collaboration with Columbia County Citizens for Human Dignity (CCCHD), and with support from the Rural Organizing Project, and CAUSA: Oregon's Immigrants Rights Coalition.

More information at: www.rop.org



---
Unlearning Discrimination in Oregon



January 19 - March 29, 2009 - Portland Oregon: The Oregon Jewish Museum is hosting a unique exhibit about the history of discrinination in Oregon.

Looking back through the 150 years since Oregon became part of the United States reveals an imperfect legacy–plenty of occasions for Oregonians to feel proud of their state, but also darker chapters, discrimination among them. Oregon's first constitution, written in 1857, denied African-Americans the right to live in the state. Did you know that before the Fair Housing Act was amended in 1988, more than 60% of the state's rental units were off-limits to families with children? Many astonishing facts, perspectives, and images on the history of discrimination in Oregon can be experienced in two coordinated exhibitions, Anywhere But Here: A History of Housing Discrimination in Oregon, on loan from the Fair Housing Council of Oregon,and No Easy Road: Unlearning Discrimination in Oregon, on loan from the Oregon Area Jewish Committee. Additional stories collected by the Oregon Jewish Museum examine the experience of Oregon's Jews. The Oregon Jewish Museums offers special tours and school programs in conjunction with Yes We Can! Unlearning Discrimination in Oregon. Please contact Leah Faw at education@ojm.org for more information.



The Oregon Jewish Museum (www.ojm.org/)
310 NW Davis St.
Portland, Oregon 97202





---
Kansas hate group to hold rallies in Portland



The Westboro Baptist Church, famous for its Anti-Gay protests is planning on being in Portland on Monday, November 24th, to stage various protests, including one at Portland State University. The WBC operates a website called "God hates fags" and has staged protests at the funeral of Matthew Shepard and American soldiers and has blamed the 9/11 attacks on America's tolerance of diverisity.
The PSU community is working on a response.

The WBC planned rallies:
11/24/2008 07:30 AM - 08:30 AM Portland State Univeristy (SW Market St & SW 13th Ave)
11/24/2008 08:45 AM - 09:15 AM Sweden Consulate (SW 5th Ave & W Burnside St)
11/24/2008 09:30 AM - 10:00 AM German Consulate (3rd Ave & SW Market St)
11/24/2008 11:30 AM - 12:15 PM Silverton, OR (306 S Water Street)
11/24/2008 2:45 PM - 3:15 PM Finland Consulate(10220 SW Greenburg Rd Tigard, OR)



---
Transgender Day of Remembrance: A Vigil and Speak Out Against Hate Crimes



Thursday, November 20th, 2008 - Portland State University: Transgender Day of Remembrance. Featuring Scott Turner Shofield, a man who was once a women, a lesbian turned straight guy (who is mostly read as a gay man) has created theater about gender and sexuality in the Deep South. Not suprisingly, his work centers on contradicitions and comedy. His FREE performance will take place between 8pm-9pm in the Portland State University Smith Memorial Center Ballroom 355). This performance follows a candlelight vigil in the PSU Park Blocks (SW Park & Montgomery) from 6:30pm-7:30pm, featuring speeches by trans therapist and author Reid Vanderburg, "Spirit of Pride" award winner Laura Calvo, and Jenn Burleton, Executive Director of TransActive.

More information at: Queer Resource Center


---
Police: Man attacked gay woman



November 14, 2008 - Aloha, Oregon - On Tuesday, November 11, a 20-year-old woman was walking on Southwest 174th Avenue in Aloha when she was attacked by a white male. The man initially asked her for a cigarette, but became angry when he learned her sexual orientation. The man threw her to the ground and struck her several times with a rock. The woman suffered non-life-threatening injuries.

Story at: KATU.com



---
Portland marks 20th anniversary of brutal hate murder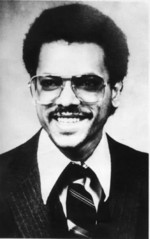 On Wednesday, November 12th Mayor Potter presented a Proclamation honoring the life of Mulugeta Seraw, an Ethiopian national and student of PCC who was brutally murdered in SE Portland 20 years ago by skinheads. Norm Costa, Randy Blazak, and Emily Gottfried (via written statement) of the CAHC testified before the City Council with regard to the efforts by the city, the CAHC, and the new Human Rights Commission to reduce hate.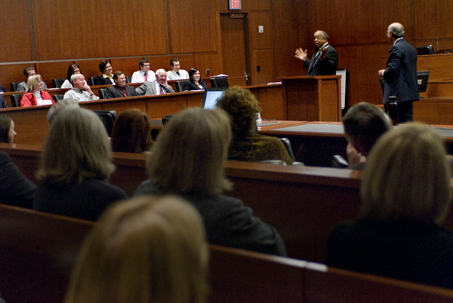 On Thursday, November 13 at 4:30 pm The United States District Court of Oregon Historical Society presented "Berhanu v. Metzger: the 1988 murder of Mulegata Seraw by followers of Tom Metzger and his White Aryan Resistance organization. Twenty Years Later" at the U.S. Courthouse

Speakers were the Honorable Ancer L. Haggerty, District of Oregon Chief Judge (the presiding trial judge), and Attorney Elden Rosenthal (co-counsel for the plaintiff).


Here is the Oregonian's podcast on the anniversary: Today in Oregon

and the Oregonian article: Lessons from Mulugeta Seraw's beating death changed Portland










---
Portland area see racist anti-Obama activity



October 08, 2008 - Beaverton, Or. - Jesuit High School officials said Tuesday that the racial harassment of a student and the defacement of a Sen. Barack Obama poster, both with racial overtones, are not related. Administrators are investigating three incidents during a four-day period, including notes found by an African American girl at her home Sunday and in her school locker Oct. 2. In separate incidents, three teenagers appeared on campus Sept. 29 behaving in a "threatening and aggressive manner" toward students, asking where to find Obama posters, school officials said.


Full story at: The Oregonian

September 29, 2008 - Gresham, Or. - Federal authorities will investigate a second incident in the metro area involving the defacement of presidential candidate Barack Obama's likeness, with racial overtones. Campaigners at Obama's Gresham office arrived Sept. 17 to find a racial epithet and a swastika drawn on window glass in front of a poster of the candidate. Gresham police responded but developed no leads. Now, the FBI will review the incident, said Beth Anne Steele, a spokeswoman for the FBI office in Portland.

The FBI also is looking into an incident Sept. 23 at George Fox University in Newberg, where a cardboard cutout of Sen. Obama was found hanging from a tree. A sign there criticized a scholarship program for minority and low-income students. Steele said she couldn't speculate if the two incidents are related and said it will take additional investigation to determine if possible motives included intimidation based on race.

Full story at: The Oregonian

October 1, 2008 - Newberg, Or. - Four students at George Fox University in Newberg confessed to hanging an effigy of U.S. Sen. Barack Obama from a tree on campus and were suspended for up to a year, the university president announced Tuesday.

Full story at: The Oregonian

---
Racial hate crime arrest in Longview



September 5, 2008 - Longview, Wa. - Police arrested an 18-year-old transient accused of assaulting an interracial teen couple in Longview. Det. Terry Reece says tips led to Thursday's arrest of Shawn Mooney. He's held for investigation of malicious harassment, a hate crime, with bail set at $200,000. He's accused of breaking a 14-year-old boy's jaw and throwing a 13-year-old girl to the ground. Racist language was used during the Aug. 21 attack and the suspect wore a black cap with a swastika. Reece says Mooney also is suspected of spray painting swastikas at the home of a black family in Longview.

Full story at: The Examiner



---
"8-8" sees the return of Nazi flags to Portland





Read the story here at: The Skanner



---
Wave of Hate Incidents in Eugene



May 9: Hate graffiti found at Spencer's Butte Middle School
May 28: Hate graffiti found at Cesar Chavez Elementary School
June 9: 59-year-old black man savagely beaten in NW Eugene
June 9: Holocaust denier David Irving at "Pacifica Forum"
June 19: Anti-Semitic graffiti found on Jewish family's house in NW Eugene
June 21: Object with racist messages attached thrown through window of a business owned by a black man
June 23: Anti-Semitic graffiti found on DeFazio footbridge
June 24: White separatist Tomislav Sunic at "Pacifica Forum"

For more information see: Protesters see link to recent hate crimes



---
Woman attacked on MAX train by gang of youths shouting racial slurs



June 12, 2008 - Portland, Or. - A 28-year-old white woman was beaten and robbed by a group of 5 African-American youths who shouted racist threats at her after she intervened to protect an older woman from the group. Four teens, ages 14-15, were arrested, while a fifth teen escaped with the woman's purse.
Story and video at: KATU.com

UPDATE: All five teens have been arrested and face hate crime charges. Video at: KATU.com



---
Police: Attack on 59-year-old Eugene man may be hate crime



June 11, 2008 - Eugene, Or. - Eugene police say three young white men attacked a 59-year-old black man who was using his homemade cane to get home about 1 a.m., and it may be a hate crime. Police have ruled out robbery because nothing was taken. Detective Jeff Donaca says investigators now consider race a plausible explanation.

He says the victim told officers the three men asked for a cigarette Monday and then beat him with a baseball bat.

Donaca says the victim recalls little else -- and doesn't recall anything said about race. The victim is expected to survive but will need reconstructive surgeries for severe head and face injuries.

Source: Associated Press



---
Two Medford men arrested in Southern Oregon hate crime



June 2, 2008 - Medford, Or. - Two men have been accused of burning a cross and the letters KKK into the yard of a Medford couple. Police say 37-year-old David Moss and 28-year-old Devin Klausseger are charged with arson, intimidation and possession of a destructive device. Jonathan and Sol Whyte were the target of the crime. Jonathan Whyte came from Jamaica in 2000, and the couple has two daughters, ages 2 and 4. They have been living in the house since January, but they say they're moving. The burning was last Monday. Officers collecting evidence from the yard found an explosive device made from a bottle and fireworks. An Oregon State Police bomb squad disposed of it. On Friday, an Oregon State Police detective, an FBI agent and Medford officers searched a home in southwest Medford and said they had suspects.

Investigators said they are trying to determine whether the two men are linked to other crimes, including an incident Thursday in which someone used gasoline to spell an obscenity and "KKK" on the pavement near the Whytes' house but fled before igniting it. A neighbor banged on her door about 10:30 p.m. Thursday to report that a man was pouring gasoline in the street, Sol Whyte said. She said relatives who came to stay with her after the Monday burning chased him, but the man leaped a fence and escaped. After Monday, she said, community members visited to drop off cards and letters of support, flowers and encouragement. That made her feel better, but after the incident Thursday changed her mind. She said the family would stay with relatives. "If what they want is for me to move, then I will move," she told the Medford Mail Tribune. "I have to keep my kids safe."
Source: The Oregonian
Additional story at: The Mail-Tribune.com


---
Officials find graffiti, swastika on school walls



May 28, 2008 - West Linn, Or. - West Linn police and school officials are investigating what they believe started as a student prank but degenerated into a hate crime. Intruders broke into West Linn High School early Tuesday and used marking pens to leave graffiti including a Nazi swastika on the walls. They also left a derogatory message on a copy of the Book of Mormon. The school librarian is a member of the Church of Jesus Christ of Latter-day Saints.

Story at: The Oregonian



---
West Medford residents find 'KKK' on lawn



May 27, 2008 - Medford, Or. - Residents near Medford's Union Park found the letters "KKK" burned into their front lawn late Monday, police say. Officers who responded also found a small, improvised explosive device, which did not detonate, Medford police said in a press release today. Witnesses told officers they saw people running toward Union Park after the letters were found. Police say they do not know the motive for the vandalism, but resident Sol White told police her husband is from Jamaica. An investigation is continuing.

Story at: The Mail Tribune



---
Hundreds gather to voice their support for Oregon's domestic partnership law



January 30, 2008 - Portland, Or. - Hundreds of Oregonians from all over the state showed up in the freezing rain to make a stand for equal rights. The demonstration called for a end of out-of-state groups, like Restore America, disrupting the legistlative process that would extend a variety of rights to domestic partners. The law, which has been held up by anti-gay activists, will be reviewed on Feb. 1.

Full story of the rally at: The Daily Vanguard

To make a stand for equality, contact Basic Rights Oregon


---
---
BREAKING NEWS! Congress drops hate crime bill covering attacks on gays (click here)

---
---
Notorious Oregon skinhead rearrested after prison release



December 20, 2007 - Portland, Or. - One of the most well-known figures in the Northwest skinhead movement was rearrested in Oregon.

Kyle Brewster, 38, was one of three neo-Nazis who killed an Ethiopian immigrant back in 1988. He out of prison in 2002, but officers say he violated parole by contacting a white supremacist group and went back in 2006.


Full story at: KGW.com

---
Longview and Kelso community make stand against hate group



December 9, 2007 - Longview, Wa. - Approximiately 500 community members attended a diversity rally in opposition to a meeting by the racist group, the Church of Jesus Christ Christian. The racist group, which is linked to Aryan Nations and various Neo-Nazi groups, had about 50 members in attendence and has tried to start a regular church in the area.

Full story at: The Daily News Online


---
FBI says hate crimes up in Oregon in 2006



November 19, 2007 - Associated Press - Hate crime incidents were up slightly in Oregon in 2006, according to new data from the FBI. There were 141 such incidents in Oregon in 2006, up from 137 in 2005, according to the FBI's data, which was released Monday.

Race was the motivation for 66 of the attacks, the FBI says, followed by religion, which was behind 27 of the incidents. Twenty-five of the hate crimes have been linked to sexual orientation, and 23 have been connected to ethnicity.

The FBI says that more than half of the hate crimes were connected to violent offenses, including assaults and intimidation.

The 2006 Hate Crime data can be viewed at the FBI UCR Website (click here)



---
New Listing of Oregon Hate Groups
CLICK THE IMAGE
---
Supremacist group seeks Longview church



November 9, 2007 - Longview, Wa. - An argument broke out among Longview City Council members Thursday over whether to allow a white-supremacist church to hold an organizational meeting at the McClelland Arts Center. The Church of Jesus Christ -- Christian has asked to rent the city-owned building Dec. 9 for the purpose of organizing a new church in Longview, Mayor Dennis Weber told the council. The group chose McClelland Arts Center, he said, because it's adjacent to Victoria Freeman Park. Freeman was pioneer in the black community best known for integrating Longview's public schools in 1924. In past years, racist fliers and graffiti have appeared in the park on Martin Luther King Jr. Day and Juneteenth, a celebration commemorating the end of slavery in the United States. Police Chief Alex Perez said the Church of Jesus Christ -- Christian has ties to the Aryan Nations, a international white supremacist, Neo-Nazi group that advocates racial purity, among other things. Longview Police are investigating the group, Perez said
Full story by Amy M.E. Fisher at: The Daily News Online



---
Sherwood Elks leader says his lodge was duped by skinhead group



October 7, 2007 - Sherwood, Or. - The leader of the Sherwood Robin Hood Elks said Sunday that his group was duped into hosting a neo-Nazi group at its lodge on Saturday. "We just got completely hoodwinked on this one," said Tony Baker of Beaverton, exalted ruler of the lodge off Oregon 99W in Sherwood. "They just used us to put on their event." Lodge members were told they were renting to a group of rock musicians getting together for a reunion, not 100 or so suspected skinheads who are part of Hammerskin Nation, Baker said. In fact, they never saw any banners, signs, literature or other indications of neo-Nazi activity, he said. The Hammerskin Nation, one of the nation's best-organized skinhead groups, came to Portland this weekend for its annual convention. The group refused to say where the three-day event would be held. The Elks got suspicious when they began getting nonstop phone calls, most of them anonymous, accusing them of supporting a racist group. Those were followed by calls from the media and Sherwood police. Finally, Elks members confronted group members and asked them to leave, Baker said. The group left, never admitting that they were anything other than who they said they were.

Full story by Kathleen Gorman at The Oregonian.

Also read Hammerfest Update: Nazi skinhead locations revealed in The Willamete Week.



---
Nazi Skinheads come to Portland


Hammerskins are one of the oldest national racist skinhead groups in the country. Based in Texas, they are holding the celebration of 20 years of promoting racism, anti-Semitism, sexism, and homophobia by holding an event in Portland, October 5-7. They have been invited by Volksfront, the local racist skinhead group. There will be racist skinheads flying in and driving in from all over the country. "Hammerfest 2007" will feature six white power bands, and speakers, like Billy Roper, the creator of the "white revolution" website.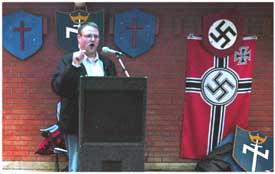 Billy Roper



Portlanders should be aware that there are both potentially violent racist skinheads in the city (especially in Southeast Portland), as well as potentially violent anti-racist activist who wish to attack the racists (including anti-racist skinheads). The Portland Police are monitoring the situation, but the HCRN phone line will be open if there is any activity you wish to report (503-725-8502).

There is also a community gathering and rally against racism being held to show that Portland is a place of inclusion, not exclusion.



Community Rally
Saturday, October 6th, 1 pm
Lents Park (corner of SE 92nd and SE Holgate)




Be safe! Portland is strong because it is diverse!

---
National white supremacy group planning festival in PDX



Sept. 27, 2007 - Portland, Ore. (KGW) - One of the nation's largest white supremacy groups is descending on Portland. The Hammerskin Nation is planning to hold it's annual Hammerfest music festival somewhere in Portland October 5-7. The event comes in conjunction with the Hammerskin Nation's 20th anniversary. So far the Hammerskin Nation has not announced where their event will be held.

Full story by Scott Burton at: KGW.com (click here).



---
Senate Passage of Hate Crimes Bill Moves Bill Closer Than Ever To Becoming Law



Sept. 27, 2007 - Washington DC - In an historic step toward equality for GLBT Americans, the U.S. Senate voted to pass the Matthew Shepard Act, which updates and expands the federal hate crimes laws to include bias motivated violence based on a victim's sexual orientation, gender identity, gender, and disability, and provides new resources and tools to assist local law enforcement in prosecuting vicious crimes.

Full story at:
(click here).
---
White supremacist issues arise in Oregon town



Sept. 18, 2007 - BUTTE FALLS, Ore. (AP) - The quiet Jackson County town of Butte Falls is combating outbreaks of racism by white supremacists and others, evident by swastikas carved in benches and fights between whites and Hispanics. By June it had reached the high school. Someone burned a swastika symbol in the carpet of a history classroom. "That was the first time I saw the problem really invade the school," known as a haven for children from troubled families, said history teacher Kevin Keating. So when Tim Sweeney became district superintendent in July, he vowed to act.

Staff members were uncertain how to handle the issue and how much district support they would have, he said. Last year 10th-graders Derrick Cisneros and Harley Casillas heard about classmates using slurs referring to their Hispanic heritage behind their backs. Some of the racist remarks came from football teammates, Casillas said. They saw swastikas on bathroom walls. Cisneros avoided the city park where alleged skinheads stared him down.

Full story at: KAVL.com Eugene (Click here)



---
Gay-rights foes turn in petitions



Sept. 27, 2007 - Salem, Ore. - Referendum - Opponents of two laws are not sure if they have enough signatures to force a vote in 2008

Groups hoping to overturn two Oregon gay-rights laws delivered nine boxes filled with petitions to the secretary of state late Wednesday. But those petitions may not contain enough valid signatures to win a spot on the November 2008 ballot. Opponents need 55,179 signatures from registered voters to force a referendum on each law. They delivered nearly 63,000 signatures on each.

Full story by Michelle Cole at:The Oregonian (click here)



---
HATE GROUP MEETING IN PORTLAND TO OPPOSE EQUALITY IN OREGON



RESTORE AMERICA has been orgainizing to repeal the recent legislation banning discrimination based on sexual orientation and allowing civil unions. They will be hosting a "truth" symposium on August 23rd at 6:30PM at Newmark Theatre, in the Portland Center for the Performing Arts, which is on 1111 SW Broadway in downtown Portland.

---
WHO KILLED VINCENT CHIN?



On Saturday, July 7th, Thymos will present a screening of Christine Choy and Renee Tajima-Pena's award winning documentary "Who Killed Vincent Chin," followed by a townhall type panel discussion regarding hate crimes against Asian-Pacific Americans. The documentary recounts the true story of a young Chinese American man named Vincent Chin who was beaten to death by two unemployed white auto workers during the early 1980's. According to court papers, the motive for the beating arose from racial tensions sparked by Japan's dominance in the automobile industry, and the murder, along with the subsequent light punishments of the perpetrators, outraged Asian Americans across the country. For Asian American activists, Vincent Chin became symbolic of the racism that Asian Americans face in everyday life and the historic failure of the American courts to enforce justice for victims of anti-Asian violence. Thymos will present this screening in conjunction with Asian Pacific Americans for Progress's National Townhall on Hate Crimes in observance of the 25th anniversary of Vincent Chin's death. The townhall meeting will be recorded for possible broadcast through Asian Pacific Americans for Progress.

Date: July 7, 2007
Time: 3:00 pm – 6:00 pm
Place: OHSU Doernbecher Children's Hospital, 11th Floor Auditorium
Panelists:
Ms. Tracey Lam (Producer, KATU News)
Mr. John Kodachi, JD (Lawyer; President of Japanese American Citizens League)
Dr. Patti Sakurai, PhD (Professor of Ethnic Studies, Oregon State University)
Mr. William Chin, J.D., M.S. (Professor of Legal Analysis and Writing, Lewis and Clark Law School)

Sponsors:
Korean American Citizens League
Japanese American Citizens League
KBOO Radio
APA Compass
Oregon Minority Lawyers Association


For more information, please contact Byron Wong at 503.318.3642 or e-mail at byronwong@gmail.com


---
STAND TOGETHER AGAINST HATE CRIMES






Wagon Wheel Park Incident Update (June 29, 2007)



A vigil was held on on Sunday, June 3rd at Canegie Center Park in Oregon City to show community opposition to the recent anti-Latino attack in Clackamas Counthy

You can read the full story here: Immigration debate stirs animosity

This vigil was sponsored by:
Portland Immigrant Rights Coalition
Coalition Against Hate Crimes
Rural Organizing Project
Atkinson Memorial Church Unitarian Universalist
Prince of Life Lutheran Church
Unitarian Universalist Congregation of Salem
St. Stephen's Lutheran Church
Democracy Talking
Oregon Farmworkers Ministry

Detective Jim Strovink of the Clackamas County Sheriff's Department has told the CAHC that the investigation of this case is a top priority for the county and that there should be more news soon.



---
Two Latino men from Salem attacked at Oregon park



May 27, 2007 Mulino, Ore. - MULINO — A score of white teenagers attacked two Salem men at a park south of Portland, chanting "Go back to Mexico" as they delivered the beating, police said.

The violence erupted Thursday night at Wagon Wheel Park in Mulino, a town about 25 miles south of Portland. Edwin Gonzales, 27, and Alex Guzman, 26, were drinking beer and talking with two girls who were at the park with a large group of male teens.

At one point, Guzman, Gonzales and the girls went for more beer. When they returned, more than 20 male teens jumped Gonzales and Guzman, police said. "These poor souls were terrified," said Detective Jim Strovink, spokesman for the Clackamas County Sheriff's Office. "They were minding their own business, and they were attacked with absolutely no provocation."

Austin Wright Greenwood, 18, of Oregon City was identified by the victims as the ringleader. He was charged with assault and criminal mischief and lodged at the Clackamas County Jail.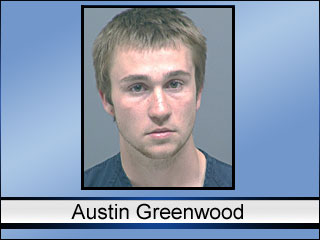 Full story at:The Oregonian Online.

---
Former Leader of Aryan Prison Gang Now Speaking to Youth


As the founder of the whites-only European Kindred prison gang, David Patrick Kennedy has a reputation as a violent racist who commands respect from fellow criminals. But Monday afternoon, Kennedy told more than 100 Madison High School students that he is not proud of his life and that no one should look up to him.

Read the full story at: The Portland Tribune On Line.



---
Springfield man sentenced in hate crimes





April 03, 2007 Springfield, Ore - A Springfield man was sentenced Tuesday to 11 years, 3 months in federal prison for his role in a series of hate crimes, including a 2002 attack on Eugene's Temple Beth Israel synagogue. In a plea arrangement with the government last summer, Jacob Albert Laskey, 26, acknowledged that he was guilty of conspiracy to violate civil rights, damaging religious property, soliciting murder, obstruction of justice, soliciting a bomb threat against Eugene's federal courthouse and being a felon in possession of a firearm.

According to the government, Laskey and four other white supremacists drove to the synagogue on Oct. 25, 2002, and threw rocks etched with swastikas through stained-glass windows as 80 congregants worshiped inside. As part of his plea, Laskey admitted that he later attempted to intimidate co-conspirator Jesse Baker into withholding information from FBI investigators. Laskey also admitted that he solicited Baker to kill potential witnesses and call in a bomb threat to the Eugene courthouse, where a grand jury was looking into his crimes

Source: The Oregonian.

---
National gay and lesbian group targets George Fox University





April 04, 2007 Newberg, Ore. - A national group that advocates gay and lesbian rights is targeting George Fox University for using religion to discriminate against homosexuals. The group,Soulforce will spend Friday on the campus of the Quaker university in Newberg. The stop - the only one in Oregon - is part of a tour of 32 Christian colleges and universities across the country.

Brandon Kneefel, a 20-year-old Penn State University student and Soulforce spokesman, said the group's mission is to "spark a dialogue" about what it means to be Christian and gay or transexual. He said about two dozen young people will visit the school to tell administrators "how these policies are harmful and causing pain on these campuses."

Brad Lau, vice president for student life at George Fox, said while school leaders "clearly disagree" with Soulforce, the group's members are welcome to visit. Lau said the school would participate in a "day of dialogue," including a breakfast meeting between Soulforce members and school administrators.

"We see this as an opportunity to model to students and our community how to be Christ in the world, including civil discourse with people with whom we disagree," Lau said. Lau said incoming George Fox students agree to honor the school's view on sexual expression. He said sex within marriage between a man and woman is God's plan for sexual fulfillment, and that anything outside of that, including homosexuality, adultery and promiscuity, is not acceptable. "We certainly have students and others who may struggle with same-sex attraction but they agree to live by" the school's "lifestyle commitment," he said.

Source: The Oregonian.

---
Letters for Steven





We are collecting letters on Steven's behalf so the judge in his case can make a decision that considers Steven's contribution to the community. If Steven Stroud has spoken to your group, or his work helping young people get out of the hate movement has impacted you (even if you just saw him on Oprah), please consider writing a letter. If his work monitoring hate groups in Oregon or speaking to young people about the dangers of hate, please consider writing a letter. For now, you can send letters to:

Dr. Randy Blazak
Dept. of Sociology, PSU
Portland, Oregon 97207


Or email it to: cfrb@pdx.edu

Thanks, Steven could really use the support.

---
Steven Stroud





Some of you may have heard the Steven Stroud was arrested yesterday for a series of robberies in the area. I want members of the CAHC to know the circumstances that have lead this great member of our community to such a low point. For the past several years Steven has been battling lymphoma. As one of the millions of Americans without health insurance he has tried to find the best cancer treatment available to someone of his means. Unfortunately, that treatment was never adequate and Steven found refuge from the pain in heroin. He was horribly embarrassed that he had become addicted to the drug and entered several drug treatment programs. Unfortunately, the drug was stronger than he was.

Over the past ten years Steven has done incredible work fighting hate crime in the community. With the Oregon Spotlight, the CAHC, and on his own he has reached out to members of the racist subculture to show them a better way. He has talked to countless students about his life as a former racist skinhead. His monitoring work has provided an invaluable source of information to law enforcement, the media, and academics. He routinely risked his life for this cause. There were fewer hate crimes in Oregon because of his efforts.

Steven will come out of this crisis with great insight to share with the world, but for now he could use our prayers.

Randy Blazak

---
Police report case of racial intimidation



January 24, 2007 Medford, Ore. - An African-American couple were the target of racial intimidation Tuesday morning after a large rock with a threatening letter attached was thrown through their window, Medford police said. Twenty-year-old Weseley Adams, who lives in the apartment on West Eleventh Street has no clue who may be trying to scare him out of his home, Medford police Lt. Tim George said. Adams' girlfriend, age and name unknown, was at home when at around 8 a.m. a large chunk on concrete smashed through her living room window. She soon found a note was attached by a rubber band. It read, "Go home, n-----."

George said there have been no reported problems with racial intimidation in the area. Medford police have not had a similar case anywhere in the city in quite some time, he said. "It's disturbing to say the least," George said. "We are going to be following up on this case (today)." He added that the suspects may have left physical evidence on the rock and note. Detectives will check them today. Anyone with information is asked to call Medford police at 774-2250.

---
4 Teen Girls Arrested in an Assault on a Fifth



January 14, 2007 Portland, Ore. (Oregonian)– Four teenage girls have been arrested on accusations of assaulting and robbing a 16-year-old girl at a MAX light-rail stop Thursday afternoon (Jan. 11), Portland Police said. Evidence indicates the teenagers targeted the victim partly because of her race, police said. The four girls, all African-Americans ranging from 13 to 16 years old, first confronted the victim, who is white, and her friend at the Rose Quarter MAX stop. About 4 p.m., they assaulted and robbed the girl at the Lloyd Center MAX stop, police said. All four were arrested on accusations of robbery, intimidation, and assault. Officer Catherine Kent, a police spokeswoman, said detectives concluded after interviews with witnesses, the victim and the suspects that the girls had singled out a white victim. Black-on-white bias crimes are rare, Kent said. Police ask anyone who saw the incidents to call detective Heidi Housley at 503-823-1080.

Scott Learn – The Oregonian.

---
Hate Graffiti found across south Eugene



November 20, 2006Eugene, Ore. (Oregonian) - Eugene police are seeking leads on hate graffiti discovered Sunday morning on buildings, play structures and at numerous parks along the 2700 block of Amazon Parkway. Investigators suspect the graffiti was done Saturday night. It was found in a softball/ baseball park, at the Amazon Community Center, Amazon Park, South Eugene High School and a skate bowl near the Amazon dog park, Eugene police said. Police are seeking the public's help in solving these crimes. Anyone with information about the case or who spots any similar cases is urged to call 541-682-5111.

---
Vandals target lesbian couple in Albany



November 10, 2006 ALBANY, Ore. (AP) - Jane Tillman and Patti Larsen have plenty of experience with vandals. A year ago, the gas tank in Tillman's vehicle was filled with corn syrup. One month ago, the locks on their house door were clogged with super glue. Larsen and Tillman say they have also had hoses cut, the house egged, their outside lights disabled, the water turned on in the front yard and the air let out of car tires.

But this week, as Larsen was backing out of the garage on her way to work, she found the word "lesbos" spray painted on the garage door. The partners of 22 years say it's the first time that any of the vandalism has made reference to their sexual orientation, and the big red letters made them feel like the victims of a hate crime.

The couple has lived at their home for about eight years, but it's only in the last three or four years that the vandalism has been happening, they said.

Though police have no suspects, Tillman said it must be someone who knows them. "Someone who knows us, but when I say 'know us,' they don't really know us at all," Tillman said. The couple said they abstain from public displays of affection and their relationship is an "unspoken secret."

Though their house isn't the only one in the neighborhood to be targeted for minor vandalism, such as an egging, the women, who moved to the mid-Willamette Valley in the 1990s, said the spray paint feels like a physical threat, and they are considering installing a surveillance system. The incident was reported to Albany police, and an officer interviewed the women and took pictures of the garage door. Detectives also reviewed the case, Police Chief Ed Boyd said. But there are no suspects, and Boyd said the department typically allocates resources to cases where there are suspects, leads and opportunity for follow up.(Copyright 2006 by The Associated Press. All Rights Reserved.) Story at: KATU.com

---
Vandals paint swastikas on Longview church



October 2, 2006 LONGVIEW, Wash. -- Cleanup was underway at the House of Prayer Church in Longview, after vandals spray-painted swastikas on the front doors. The pastor said he believes the church is a target because it's a place for people of any race to worship. This was the second time someone left the hate symbol marking on the building.

It will cost several hundred dollars to remove the graffiti, an especially difficult task since the congregation only has 35 members and not a great deal of extra spending money in the budget.

Source: www.KGW.com

---
Vandals Target Portland Gay Bar



September 29, 2006: PORTLAND - A gay bar in North Portland has been targeted by vandals. Its owners calls it a "hate crime". Police are investigating it as such. The latest incident happened when vandals threw a tire at the bar's marquee. It read "Gay Marriage - God for Oregon." The entire marquee board is damaged, and the owner says it will have to be replaced. He also says this week's incident is not the first time his bar, named "The Urge", has been vandalized.

The bar does have security cameras, and police are looking through the surveillance tapes. "The Urge" has only been open since May.

Source: www.KOIN.com

---
Washington County's only known hate killing unsolved 5 years later



August 28, 2006 Detectives and rights activists hope for a break in Lorenzo Igisaiar Okaruru's death.

Full story at: The Oregonian



---
Washinton County Walk For Unity!



Everyone is invited to participate in the 2nd Annual Washington County WALK FOR UNITY to celebrate the wonderful diversity of our community.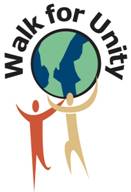 The 3 mile walk and community celebration will feature music by Wood Vibrations Marimba Band, food booths, a community fair featuring tables from non-profit community service organizations, special projects for kids, and much more!

2006 Walk for Unity - It's FREE! Anyone can participate!
When: Sunday, September 10, 2006 2:00 PM
Where: Beaverton City Park - 4950 SW Watson Ave. Beaverton, OR

Sponsored by: Providence Health System
Presented by: Committee, Beaverton Human Rights Advisory Council, City of Beaverton, Hands On Washington County, Inter-Religious Action Network of Washington County, Islamic Society of Greater Portland, Vision Action Network and Washington County

Want to become more involved? Volunteer on the day of the event!
Please call the Vision Action Network at 503-846-5792 or go to www.visionactionnetwork.org for more information.

---
Supremacists plead guilty in attack on synagogue



August 17, 2006 Eugene, Or. Two white supremacist brothers pleaded guilty to throwing rocks engraved with swastikas at a synagogue during a religious service. The stones shattered stained-glass windows but injured none of the 80 people inside.

Jacob Laskey, 25, and Gabriel Laskey, 21, face a maximum sentence of 10 years in prison for conspiring to deprive people of their civil rights and 20 more years for damaging religious property in the Oct. 25, 2002, attack against Temple Beth Israel in Eugene.

Jacob Laskey also pleaded guilty to soliciting the murder of a witness, soliciting a bomb threat against the federal courthouse in Eugene to interrupt grand jury proceedings and unlawful possession of a firearm and ammunition by a convicted felon.

Full story at: The Oregonian
---
3 Assaulted in Suspected Hate Crime



June 7, 2006 Portland, Or. Three men were assaulted early Saturday at Southwest Stark Street and 10th Avenue in what police suspect was a hate crime. At least one of the victims was walking along Stark toward 10th when at least two men in their 20s ran towards him and attacked him, shouting anti-gay slurs. Others intervened and were assaulted. When police arrived about 2:15 a.m., 25 to 30 people were standing near the northeast corner of the intersection and one man was lying in the street with a bloody nose, said Officer Cathe Kent, a Portland police spokeswoman.

Police said the man in the street, a 39-year-old Gresham man, was conscious but confused. Witnesses said he was punched in the face several times and kicked in the head or upper torso. An ambulance was called to the intersection, and at least three victims received medical attention at the scene, police said. The other two victims were a 24-year-old man from Southeast Portland and a 21-year-old man whose hometown was unknown, police said. The case is being forwarded to Bias Crime Detective Molly Daul for investigation. No arrests had been made. Police said many of those gathered at the scene had spilled out of area bars. The suspects were described as two men in their 20s, about - 5 feet 10 and 5 feet 11 inches tall, and weighing 175 to 185 pounds.

-- Maxine Bernstein The Oregonian
---
Brewster Arrested For Violating Parole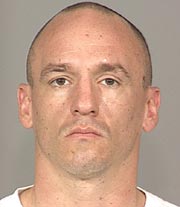 May 19, 2006 PORTLAND, Ore. (AP) -- Court officials say a man convicted in the killing of an Ethiopian immigrant by white supremacists has been arrested for a parole violation.

Thirty-seven-year-old Kyle Brewster was sentenced to 15 years for manslaughter in the 1988 beating death of Mulugeta Seraw in Portland.

Brewster was released in November 2002 and was scheduled to complete his parole in 2008.

But parole officials say they found evidence that Brewster had been in contact with members of the white supremacist group Volksfront and that violated parole provisions that prohibit him from being involved in gang activity.

Seraw, an airport shuttle bus driver, was killed with a baseball bat outside his apartment when confronted by Brewster, Kenneth Mieske and Steve Strasser.

Mieske, who wielded the bat, pleaded guilty to murder while Strasser pleaded guilty to manslaughter.


---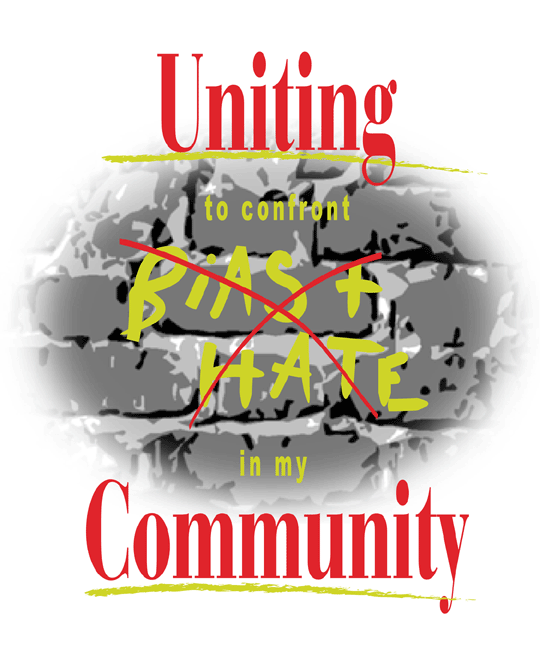 HATE CONFERENCE A GREAT SUCCESS!

WHAT: 2006 Oregon Hate Crimes Conference: Uniting to Confront Bias and Hate in My Community with Sherman Alexie and Dolores Huerta

WHEN: June 21 - 23, 2006

WHERE: Portland Community College, Cascade Campus

INFORMATION: Contact Mandy Ellertson at melletso@pcc.edu or call (503) 614-7261, or visit the conference website at: http://oregonstate.edu/conferences/hatecrimes2006/

Sponsored by:

The Coalition Against Hate Crimes, Portland Community College, American Jewish Committee, City of Portland, Fair Housing Council of Oregon, FBI, Oregon State University, Portland Police Bureau, Sexual Minorities Roundtable and Southeast Uplift Center
---
Police arrest four in racial confrontation

Tuesday, August 16, 2005 - GRESHAM -- It was late Sunday when Kamau Herndon walked from his house in Gresham to his neighborhood 7-Eleven to pick up a six-pack of beer.

One of the white men pulled a machete from the front seat of a Chevrolet Suburban, said Officer Grant McCormick, a Gresham Police Department spokesman. Herndon said the man began waving the machete while the three people with him continued to taunt Herndon. When Massey and Miller came out to help Herndon, the man began waving the machete in Massey's face, according to police reports. "He was twirling the machete, and his friends were yelling, 'White Power!' -- slapping their chests and giving the Nazi salute," Massey said. "You could see where they had written swastikas on the side of the 7-Eleven."

The store clerk came out and said he had just called 9-1-1, and the police were on their way. McCormick said the group got into the Suburban and, after trying to run the three men down, headed east on Division Street. Police caught the SUV about nine blocks away. The driver, William P. Henry, 29, of Southeast Portland, was arrested inside the vehicle. Three other suspects -- 22-year-old Christian L. Coats, 25-year-old Dennis L. Mothersbaugh and 22-year-old Ariane E. Celis, all Gresham residents -- were caught nearby.

The full story is at The Oregonian.
---


WHAT: "Day of Condemnation - Not in My Name"
WHEN: Saturday, July 30, 12:00 noon - 3:00 pm
WHERE: Terry Schrunk Plaza
SW 3rd between Madison and Jefferson, Portland OR


---
OREGON GOVERNOR TO INTRODUCE COMBINATION CIVIL UNION / NON-DISCRIMINATION BILL AT REQUEST OF BASIC RIGHTS OREGON



Special report at: Basic Rights Oregon.
---
A SPECIAL EVENT SPONSORED BY THE JEWISH STUDENT UNION AT LEWIS & CLARK COLLEGE



Holocaust survivor Renée Firestone - Lecture and film screening to mark the 60th anniversary of the liberation of Auschwitz

Firestone, 81, is an Auschwitz survivor and the founding lecturer for the Simon Wiesenthal Center's Education Outreach Program in Los Angeles. She is a trainer and interviewer with Steven Spielberg's Survivors of the Shoah Visual History Foundation. Her story is included in the Academy Award-winning documentary "The Last Days."

Film: "The Last Days"
Wednesday, April 13, 7:30 p.m.
Miller Center for the Humanities, Room 105

Lecture: "Where Have All These Faces Gone: A Holocaust Survivor's Perspective on Racism, Resistance, and Tolerance"
Thursday, April 14, 7:30 p.m.
Agnes Flanagan Chapel

Lewis & Clark College (0615 S.W. Palatine Hill Road)

INFORMATION: Both events are free and open to the public. For more information, contact the Jewish Student Union at jsu@lclark.edu or call 503-768-7961
---
Anti-Civil Rights Forces Rally in Salem



February 23, 2005 ­ From Basic Rights Oregon: The Oregon Family Council, the notoriously anti-gay group which helped to launch the "Defense of Marriage Coalition," has--for the first time--hired a lobbyist to advance its anti-gay agenda in the Oregon Legislature. In addition, a bill was introduced Monday, February 21 that is designed to permanently deny any current or future relationship rights for same-sex couples. Senate bill 799, which is sponsored by Senator George and Representative Sumner, would create Oregon law that bans not only same-sex marriage, but also civil unions, domestic partnerships and any "marriage substitute" that provides benefits and protections generally afforded through marriage. It would also prevent the state from recognizing any same-sex marriage or partnership entered into outside of the State of Oregon.

You can read the full story at Basic Rights News.
---
Interview about the State of Hate



The February issue of Dissident Voice features an interview with CAHC chair Dr. Randy Blazak about the state of hate groups in 2005. You can read the interview at:

Blazak interview.
---
City Benefits From Unity Rally
Tualatin Valley Skinheads Bring Portland Allies Together!



The Coalition Against Hate Crimes was a sponsor of the Southwest Unity Rally on January 8. The event was put together to celebrate diversity and denounce hate, as a response to a planned racist flier distribution by the Tualatin Valley Skins, a local racist group who had also publicized a gathering in Gabriel Park in Southwest Portland.

The Unity Rally, held at the Multnomah Center, had standing room only, with over 1,000 people filling the auditorium, the gym, the courtyard, and the hallways of the Center. Emily Gottfried, Oregon Area Jewish Committee Executive Director and CAHC Steering Committee member, was the emcee for the program, which included Mayor Tom Potter, State Senator Ginny Burdick, Rabbi Aryeh Hirschfield of Congregation P'nai Or , Shahriar Ahmed of the Bilal Mosque, County Commissioner Maria Rojo de Steffy, Rev. David Knapp of St. Luke Lutheran, and many others. Over 30 diverse groups co-sponsored the event.

Earlier in January, both the Portland City Commissioners and the Multnomah County Commissioners passed resolutions to denounce acts of hate. At the end of the rally, Mayor Potter said, "The mayor of the city needs to stand up on these issues and support people doing the right thing. I'm so glad I can do it."

Emily Gottfried said she had expected the huge crowd, judging from the response she had from e-mails and talking to people. "I would have been surprised if we were not filled to the rafters," she said. "People really wanted to be here."

And after all the attention, the skinheads did not distribute one flier and did not gather at Gabriel Park. The only confrontation of the day was between two men yelling "white power," and a group of anti-racists gathered outside the Southwest Community Center.

Emily Georges Gottfried, AJC


---
Basic Rights Oregon files a lawsuit to preserve marriage freedom



Basic Rights Oregon attorneys filed a lawsuit Monday, January 31 challenging the constitutionality of Measure 36, a constitutional ban on same-sex marriage approved by Oregon voters on November 2, 2004. Measure 36 reads, ³It is the policy of Oregon, and its political subdivisions, that only a marriage between one man and one woman shall be valid or legally recognized as a marriage.

Full story at: Basic Rights Oregon.
---
Nazi party signs vanish in Marion County


January 29, 2005 SALEM -- Rabbi Gary Schoenberg of Portland said he was so angry over two adopt-a-road signs recognizing the American Nazi Party that he was tempted to drive to Marion County and pluck them from the ground himself.But someone beat him to it.

Sometime early Friday afternoon, the sign closest to the Salem city limits on Sunnyview Road disappeared. Earlier in the week, someone damaged an identical sign about 3 miles down Sunnyview and county public works crews removed it. The county signs -- among more than 100 in Marion County that mark volunteer efforts to clean up roadsides -- were particularly hard to see during the same week as the 60th anniversary of the liberation of the Nazi death camp of Auschwitz, Schoenberg said.

Full story at: The Oregonian.
---
CAHC-Sponsored Unity Rally a huge success!



January 9, 2005 - On a day when Skinheads failed to appear, an estimated 1,000 Southwest Portlanders turned out Saturday at two nearby events to encourage diversity and hate prevention. Mayor Tom Potter and a constellation of political, religious and neighborhood leaders addressed an overflow "unity rally" at the Multnomah Center, while another 300 people at Gabriel Park protested against hate.
The demonstrators mobilized after a local Skinhead group announced plans to gather Saturday afternoon at Gabriel Park to distribute anti-Jewish literature in Southwest Portland neighborhoods. But no Skinheads showed up.

Full story at The Oregonian.
---
Two men charged with hate crime involving Jewish cemetery



WASHINGTON (October 27, 2004 ) - The Justice Department today announced the indictment of two Oregon men who are accused of desecrating a Jewish cemetery in Portland. Sean Andrew Sigley and SHS have been both charged with the hate crime. The two allegedly vandalize the Congregation Shaarie Torah Cemetery on May 24th, 2003, painting swastikas and anti-Semitic graffiti in the Jewish sanctuary. According to the indictment, their actions were meant to frighten and intimidate Jewish residents. If convicted of the crime, they each face a maximum sentence of eleven years behind bars.

(Copyright 2004 by The Associated Press. All Rights Reserved.)
---
Racist fliers found in Hillsboro linked to hate group



Tuesday, October 19, 2004 HILLSBORO -- Police say incidents of bags with racist fliers being thrown onto people's yards in predominantly white neighborhoods last weekend are part of a pattern spreading across the Portland area.

"Hillsboro is just the latest," said Lt. Chris Skinner, Hillsboro Police Department spokesman.Skinner said bags containing rocks and two-page fliers of racist jokes targeting Latinos and containing a threat of deportation by "Homeland Security" were thrown into at least 10 Hillsboro yards. "It looks like this was mostly in the northwest area of town," Skinner said. "The majority of our Hispanic population is in the southwest part of town."It's almost as if they were intentionally going into white neighborhoods to recruit."

The fliers include the Web address for the Tualatin Valley Skins group. The group's site on Monday included a prominent headline, "The Hillsburito Hate Crew Had Fun Last Night."

Full story at: The Oregonan
---
10 teens arrested for racist attack



September 5, 2004 VANCOUVER, Wash. (AP) - The Clark County Sheriff's Office has arrested 10 teenagers who are believed to have taken part in what authorities are calling a racially motivated attack on two black teens this summer. Most of those arrested are current or former Evergreen High School students in Vancouver.

Full story at KATU.com.
---
OREGON HOLOCAUST MEMORIAL DEDICATION CEREMONY SUNDAY, AUGUST 29



The formal dedication ceremony for the Oregon Holocaust Memorial will be Sunday, August 29 at 2:00 PM near the Memorial site in Washington Park. The public is invited to the ceremony that will feature Mayor Vera Katz and other civic and religious leaders, as well as music from a large interfaith choir and local performer Amy Shapiro. After the ceremony, the Memorial will be open to all. Trained docents from the Oregon Holocaust Resource Center will be stationed at the site from 3:00 PM on. Parking is limited near the Memorial, so attendees are encouraged to park at the Portland First United Methodist Church (SW 18th and Jefferson) and to take the shuttle buses from there provided by the dedication organizers. The shuttles will run from 12:00 noon until 2:00 PM and again from 3:00 ­ 5:00 PM. Public transportation is also an option ­ Tri-Met bus# 63 runs directly to the Memorial.

A special pre-dedication tour will be held for members of the media on Friday, August 27 from 1:30 ­ 3:00 PM. Because construction is ongoing, this is the only time that the media are invited to preview the Memorial. Please call (503) 295-6761 for information.
---
200 protest in Tigard against hate fliers



May 28, 2004 - About 200 residents, officials and students gathered in a local park Thursday to rally against a recent onslaught of racist literature and CDs tied to a white supremacist group's recruitment efforts. City officials and experts said the rally, the first of its kind in Portland's suburbs, was necessary to make the group feel unwanted and to thwart its efforts to gain members among area residents and high school students.

(Source: The Oregonian)


---
---
MISSION

To use the moral authority of the Coalition and its members to give expression to the community conscience as spelled out in the Universal Declaration of Human Rights and its covenants.
Click here to read the Universal Declaration of Human Rights
PARTICIPATING ORGANIZATIONS include:
Portland Office of Human Relations
Oregon Area Jewish Committee
Salem Human Rights & Relations Advisory Commission
Portland Mayor Sam Adams
Portland Police Bureau
Community Alliance of Lane County
Presbytery of the Cascades
Ecumenical Ministries of Oregon
Federal Bureau of Investigations
Northwest Coalition Against Malicious Harassment
Northwest Portland Area Indian Health Board
Portland State University
Mittleman Jewish Community Center
American Civil Liberties Union
Oregon State Attorney General's Office
Oregon Affirmative Action
Portland Crime Prevention Center
Consulado de MÚxico en Portland
U.S. Sen. Ron Wyden
Eastrose Fellowship Unitarian Universalist
Oregon State Bureau of Labor & Industries
Church Women United
Multnomah County Sheriff's Office
Washington County Sheriff
Hope in the Cities
Office of the Governor of Oregon
National Council of Jewish Women
Church of Scientology Celebrity Centre Portland
Urban League of Portland
Metropolitan Human Rights Center
Southeast Uplift Neighborhood Program, Inc.
Oregon State Police
Basic Rights Oregon
Portland Jewish Federation
Warner Pacific College
Congregation Beth Israel
U.S. Dept of Justice Community Relations Service
Oregon Rural Organization Project
Visions in Action
Western States Center
Oregon Commission for Women
Fair Housing Council of Oregon
Highland United Church of Christ
Housing Authority of Portland
Portland Chapter Japanese American Citizens League
Northwest Labor Council
Oregon Commission on Black Affairs
Archdiocesan Pastoral Center of Portland
Oregon Commission on Hispanic Affairs
Oregon School Pyschologists Association
Multnomah County District Attorney's Office


---
Coalition Against Hate Crimes
c/o Dr. Randy Blazak, Portland State University
(503) 725-8502 cfrb@pdx.edu
Website Design © 2002 by T.L. Kelly